VLIZ news
Offshore wind turbines in faulted clay layers, what are the risks?
In the Clay Tectonics project, researchers from the Flanders Marine Institute, Ghent University and Vrije Universiteit Brussel join forces to study the influence of faults and deformations in the North Sea subsoil on the installation of offshore wind turbines. The project aims to fill an important knowledge gap in view of the construction of the new wind farms in the Belgian part of the North Sea.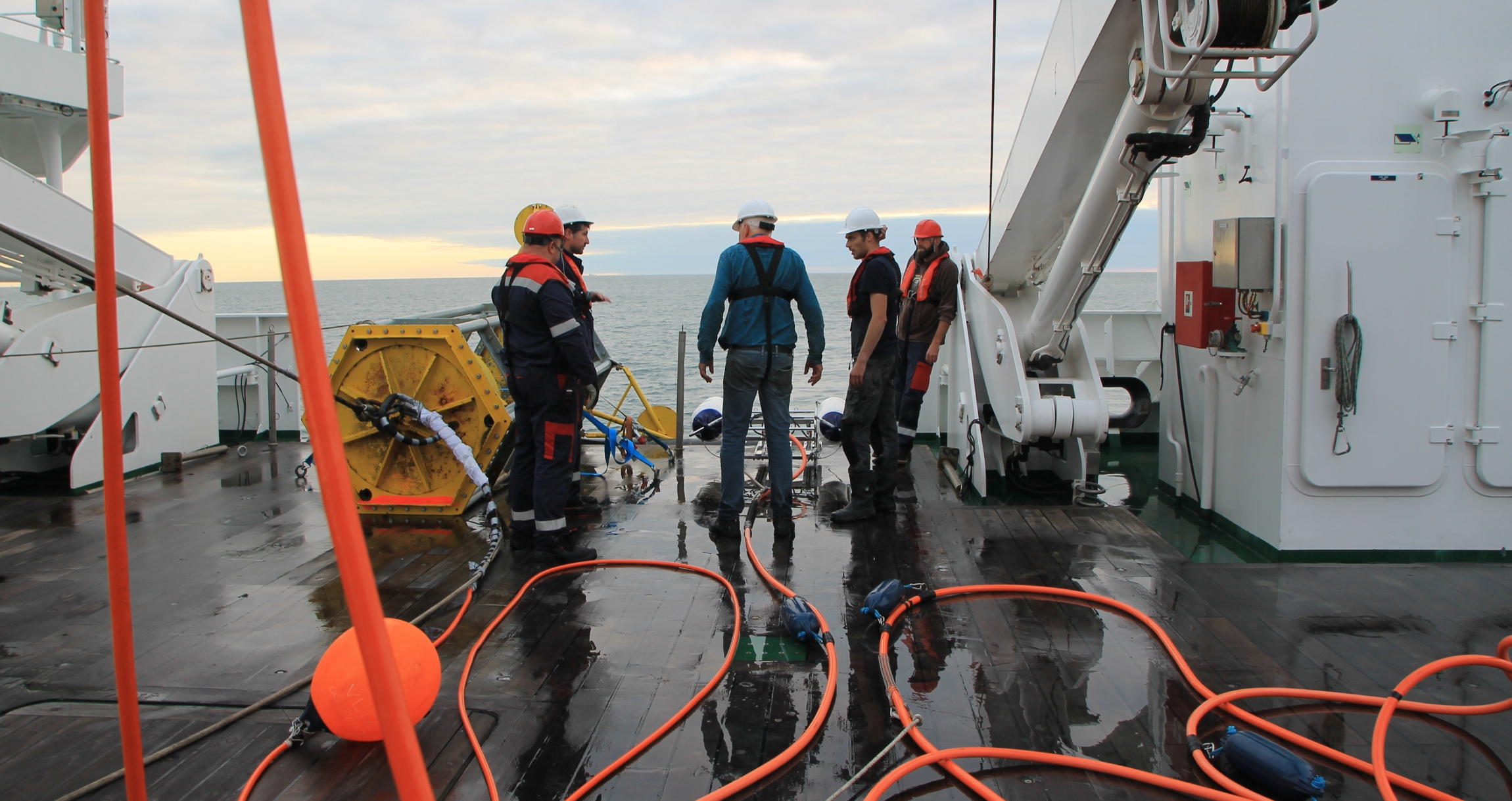 Photo: VLIZ
The kick-off meeting of the Clay Tectonics project will take place on 15 February 2023. In this project, VLIZ, UGent (RCMG) and VUB (OWI-Lab) investigate the occurrence of faults and other deformations in an important clay layer – the so-called Kortrijk Formation – in the subsoil of the Southern Bight of the North Sea. This fault network is the result of so-called clay tectonic processes which occurred shortly after the deposition of the layer. To date, the exact origin and functioning of these processes are still not fully understood.
However, the planned offshore wind farms in the new Princess Elisabeth zone in the Belgian part of the North Sea will be anchored in this clay layer. It is therefore crucial to make an informed assessment of how the fault network in the subsoil will react when a turbine is installed in the immediate vicinity. After all, the installation and operation of offshore wind turbines creates significant external forces. This may reactivate old fractures or create zones of weakness in the sediment, with possible consequences for the stability of the turbines.
In close consultation with a group of companies from the Blue Cluster, the Clay Tectonics project aims to address this essential gap in the current knowledge. The project uses a geophysical and geological approach, combined with a geotechnical research line. More specifically, the researchers will measure in ultra-high resolution a number of 3D-volumes of the subsurface, using various geophysical techniques, including marine robotics. These measurements enable a detailed mapping, analysis and geological interpretation of the prevailing faults and deformations.
The geological and geophysical information will subsequently form the input for the development of a realistic geotechnical ground model on which a number of simulations – linked to the installation and operation of offshore wind farms – can be performed. The envisaged results may be of great importance for the design of foundations, the installation procedure and/or the spatial layout of offshore wind farms. Moreover, they provide a first scientific basis for the quantification of foundation-related risks.
The Clay Tectonics project is a cSBO-project, funded by Flanders Innovation and Entrepreneurship (VLAIO) through the Blue Cluster.
Interested in the Clay Tectonics project? Contact: Hans Pirlet (VLIZ):
hans.pirlet@vliz.be


[
Overview
] [
Login
]